Programme and Project Partners (PPP) at Sellafield announces £8m contract win for Carlisle-based engineering company
Carr's Engineering Ltd has won an £8.4m contract to deliver eighteen instrument cabinets and seven shielding blocks. These will all be fabricated, tested and then supplied to the SIXEP Continuity Plant (SCP) project at Sellafield. They will be installed by PPP key long-term work partners Balfour Beatty Kilpatrick and Altrad Babcock.
Bendalls Engineering (part of the Carr's Engineering division) is taking the lead on the project, with NW Total also involved. As a leader in their field, Bendalls Engineering has been able to leverage its expertise and experience to successfully execute complex projects. With this new project, Bendalls Engineering is poised to continue its streak of success and to demonstrate their ability to navigate the challenges that come with PPP projects.
This is Carr's first award on PPP's Goods and Services Agreement framework (GSA01).
Sean Saunders, Managing Director of Carr's Engineering, said:
"We are thrilled that Carr's Engineering have recently secured a major contract win with PPP for the F16.1 Instrument Cabinets as part of the GSA01 Framework. This latest achievement is a testament to the efforts of our entire team.
"It's also an acknowledgement of the high-quality products that we manufacture, and of the strong and collaborative relationship that we have built with PPP through the SCP and SRP projects. We are excited to have the opportunity to continue providing Sellafield and PPP with the highest quality of engineering design and manufacturing services."
The F16.1 instrument cabinets are another critical part of the SCP project. Carr's will provide three different types of cabinets and seven different radiation shielding arrangements. They will all be manufactured and tested at Carr's facility in Carlisle. Then they will be delivered to site to be meticulously assembled and welded in sequence around the site.
The cabinets' primary function is to measure the flow coming from the Universal Vessels, while having the ability to individually 'lock off' each vessel / cabinet at any time to carry out maintenance work.
Duncan Elliott, Head of PPP added:
"I am delighted that PPP has awarded this contract as part of the GSA01 Framework to Carr's. This framework has been established to enable the PPP projects to streamline and speed up contract awards by removing some elements of a typical procurement process. It's fantastic to see a local business like Carr's providing innovative solutions for our projects at Sellafield."
This is the fifth contract to be awarded on the Goods/Services Agreement framework, with contracts already secured by NIS Ltd, Ansaldo Nuclear and NWEC Alliance.
Carr's Group provide a wide breadth of skills from design, fabrication and manufacturing, to prototyping, testing, site install and site support services. Carr's also has some subsidiary companies which are also suppliers. For PPP this includes Bendall's Engineering Ltd.
The first two large vessels to be installed on the SCP project were manufactured and delivered from suppliers Bendall's and Langfields last December. The SIXEP Continuity Plant (SCP) at Sellafield Ltd requires a total of 59 tanks and vessels, which act as the kidneys for the site to remove radioactivity from site effluent streams, before being safely discharged to sea. Fifty-four will be supplier made and five are commercial 'off-the-shelf' (COTS).
The Carr's Engineering division designs, manufactures and services bespoke equipment supporting markets in the global Civil Nuclear, Nuclear Defence, Oil, Gas, Pharmaceutical and renewable industries. Their manufacturing capabilities are complimented by a portfolio of remote handling manipulators and robotics. It is comprised of six businesses: Bendalls Engineering, NW Total Engineered Solutions, Walischmiller, Carr's MSM, Chirton Engineering and NuVision Engineering.
Carr's Engineering offers a range of apprenticeships throughout the business in various disciplines. The company supports local charities, sports clubs and schools with volunteer programmes and donations.
Since mobilising in 2019, the Programme and Project Partners has awarded more than £3 billion worth of contracts.
The partnership is now working with around 200 suppliers from across the UK, with 40% based in the north-west region. Almost 70% of its suppliers are SMEs.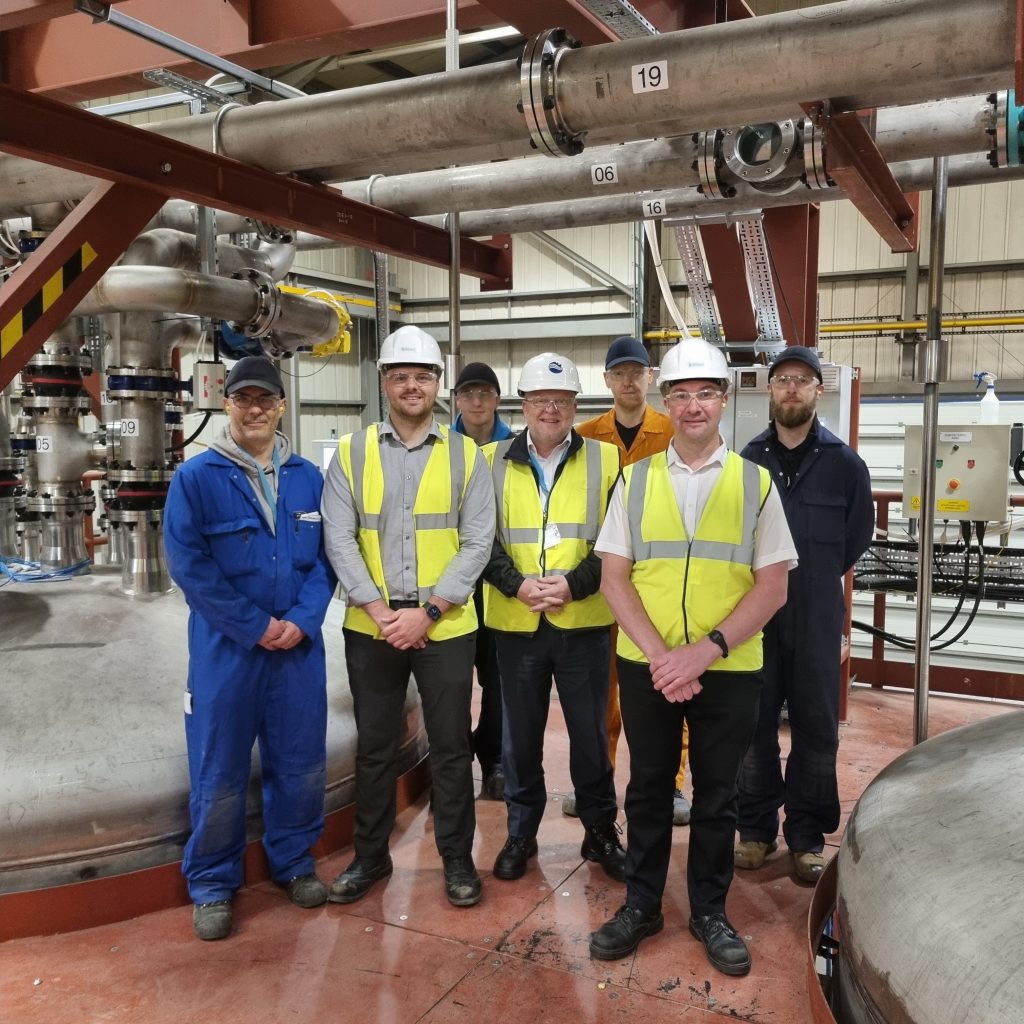 The F16.1 Instrument Cabinets will monitor the 7 Universal Vessels currently being manufactured by Bendalls. Pictured on top of the Vessel Test Rig are, from left to right – Simon Mounsey (Foreman, Bendalls), Ben Carter (Senior Project Manager, Bendalls), Gary Johnson (Welder/Fabricator, Bendalls), Keith Dolphin (Principle Mechanical Engineer, PPP), Mark Fell (Inspector, Bendalls), David McGlasson (Lead Engineer, Bendalls) and Ethan Richardson (Welder/Fabricator, Bendalls)